Miniclip NL football trip to Norway
15 July 2022
On Saturday 9 July, (almost) all Miniclip Netherlands colleagues gathered at Schiphol for the annual football trip. And since it could not take place the last two years, this was also the first football trip for many of them.
The destination this year? Bergen, Norway. Although Bergen is Norway's second-largest city, it has a small-town feel and is full of character and urban charm.
A visit was paid to local 2nd divisionist (and current number 1) Brann Sk against Stabaek. A number of colleagues appeared in local club colours on the sunny stand and enjoyed the Norwegian football culture and the vocal audience.
Besides the football, there was plenty of room for socialising, a beautiful boat trip through the fjords, a walk from the viewpoint on Fløyen, drinks and a party here and there. A successful trip for everyone who joined us in beautiful Norway (the pictures don't lie). Where will the next football trip take us?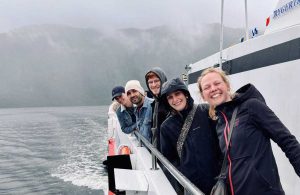 Would you also like to work for an organisation where you (if possible) go on an annual football trip? Then take a look at our job vacancies.